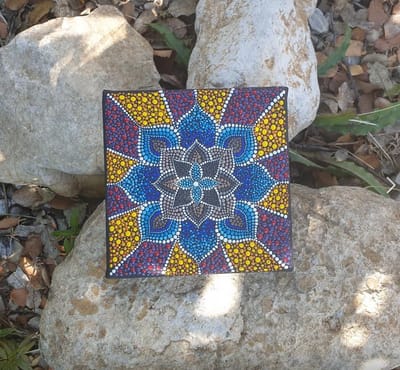 Dot-Art is niet zomaar een vorm van kunst, maar één die rust en balans kan brengen.
De Dot techniek die ik gebruik en hoe ik deze gebruik wordt met aandacht en rust gedaan.
Het is een meditatieve bezigheid die druppel voor druppel op de ondergrond wordt neergelegd en als je de rust toelaat zie je die terug in je werkjes.
Het is vooral het loslaten van perfectie, het is en blijft mensenwerk (je bent tenslotte geen computer) en het is geenszins een productieproces.
Het plezier dat ik heb bij Dot-Art is een bezigheid die een ieder van ons rust, balans en blijdschap kan geven.
***
Dot-Art is not just any form of art, but one that can bring peace and balance.
The Dot technique that I use and how I use it is done with care and tranquility. It is a meditative activity that is placed drop by drop on the surface and if you allow the tranquility you will see it reflected in your works.
It's mainly the letting go of perfection, it's remains human work (after all, you are not a computer) and it's by no means a production process. The pleasure I have at Dot-Art is an activity that can give each of us peace, balance and happiness.